Welcome to The Lake Veterinary Hospitals
We are open and here to help
Since NSW covid-19 restrictions are easing we are opening our doors again to clients following strict guidelines!
*Please keep an eye on our website or our Facebook page for any further updates.*
The Lake Veterinary Hospitals have been caring for pets in the Lake Macquarie and Newcastle area for over 30 years.
The three practices conveniently located at Belmont, Charlestown and Swansea provide courteous, compassionate and professional care.
Our dedicated team of vets, vet nurses, office staff and dog trainers aim to provide the highest quality compassionate and professional services to clients and their pets at all times.
Our Services
Medical and surgical services for dogs, cats, guinea pigs and rabbits.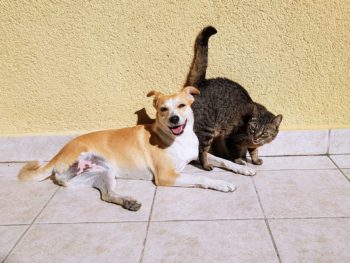 Preventative care is the key to keeping pets of all ages happy and healthy.
Professional dog training classes and consultations for puppies and adult dogs.
Upcoming Puppy Classes
Our Next puppy class starts 4th December 2023
Senior Puppy class starts 7th January 2024
For bookings, please contact our Charlestown or Belmont locations.
Latest News & Pet Care Resources
These are some of our wonderful staff pets! 🥰 #catsofinstgram…
Testimonials
Anthony is an amazing vet who has gone above and beyond helping our pets over the years. Thank you so much for your advice and compassion. Highly recommend this practice.

Melanie Quaas

Thank you to all the wonderful staff at Charlestown for caring for my Tia so wonderfully. Words can express the thanks I have for always loving and helping her. Dr Anthony, especially, thank you for being the best bet fir my Tia! You are all wonderful

Alex Toscano

After many years without a dog my kids con me into getting one ... we rescue a cattle dog pup named Archie.. 4 days in his face swells up like a balloon i panic the wife panics we all bloody panic.. long story short the girl at the front desk on Wednesdays is a saint with dogs and humans alike i was  more nervous than the dog but she was the most beautiful person with Archie and myself i think she may have even given me a treat to calm me down. lol the fact that she actually really cares for the animals shows and the vet Fiona was so gentle he didn't even know he was getting needles ...i really wanted to let you guys know that Archie and my first experience with you was AMAZING keep up the great work

Brad

Owner of Archie

Visited Charlestown clinic today for my Jack Russell's annual shots. The distancing measures (for humans of course) the staff followed were first rate. Made me feel very safe knowing they are taking the threat of COVID-19 virus very seriously. If you need a vet but are worried about maintaining social distancing then this team of professionals is the one to trust.

Mark

Owner of Bella

For seventeen years The Lake Veterinary Hospital teams have given me great help and peace of mind in caring for my precious 'fur family'. I've been able to rest assured that we will benefit from consistently excellent treatment, advice and comprehensive ranges of premium foods, pet care products and behavior management strategies. I appreciate the teams keeping up-to-date with the latest best practice in medicine, technology and behavioural research. I'm very grateful for the professional and compassionate support I'm given to keep our family in the best of health.

Jenny

Owner of Pumba, Milo and Simba

I want the best for my rescue dogs, and that naturally includes their veterinary care. The Lake Vet Hospital has provided exemplary professional advice and care.  All the staff are so understanding and efficient, and willing to 'go the extra mile' for their patients (and owners) without hesitation. From routine visits to emergency surgery, I would not entrust the care of my beautiful boys anywhere else! In my vast experience as a dog owner and animal lover, The Lake Vet Hospital represents everything a veterinary practice should be: always with that important personal touch, and with the wellbeing of my dogs close to their hearts.  They truly understand how much our dogs mean to us.  I will never forget the sensitivity shown when Mr Bones, also a rescue dog, was put to sleep. If you just want a vet, go to a vet; but if you hope for an extended family and new like-minded friends, go to Lake Vets!  (Dogs know where they're well off.)

Margaret

Owner of Gus and Bertie

Our family has been customers of The Lake Veterinary Hospital since 1998. We have three cats: Pumba, Milo and Simba who have not only undergone their yearly checkups here, but have also had a number of procedures performed at this practice. There have been a number of occasions where life-saving operations were necessary for both Milo and Simba after they swallowed foreign objects. Pumba who is 15 is also receiving exemplary care in her old age as her kidneys fail.
The veterinary surgeons are professional, friendly, empathetic, compassionate and invested in creating close and personal relationships with both their human and animal customers. The surgery is bright and clean, and we have always been more than satisfied with their service.

Kerrie and family

Owner of Pumba, Milo and Simba

The vets at The Lake Vet Hospital are very caring and attentive to our rabbits, Neffi and Buffy. From minor to major problems, we have no hesitation taking them.

Lorraine

Owner of Neffi and Buffy

I have been taking my precious bunnies to see Alison and the team at The Lake Vet Hospital Belmont since I moved to the area in 2010 and wouldn't dream of having anyone else look after my babies. Alison is beyond perfect with rabbits (which is hugely important because they are so different to cats and dogs) and understands their needs as well as my own. Tragically I lost Sweetness in a terrible accident in 2013 and the team at Belmont were supportive, understanding and generally wonderful, even thinking of me when a homeless bunny appeared and needed to be rehomed. Thanks so much to the best veterinary team there is!

Kim

Owner of Daisy-Mae, Ivan (and Sweetness)

I moved to Charlestown in late 1997 about the same time as my cat Bluebelle was born at a cattery in Silverwater Lake Macquarie. I bought her as an adult cat. We have loved each other and as there are only the two of us our bond is very close. She has been a patient of your practice for over 13 years. As well as veterinary services she also enjoyed the practice's former services of grooming and boarding on frequent occasions and I have great satisfaction for the excellent loving treatment she has received from the lovely and experienced nurses. She has her yearly check up and needles from the competent and charming vets and when illness occurs they have been able to make her well again. I enjoy the sympathetic and caring approach from all the staff.

Alisa

Owner of Bluebelle
Shop Online
Home deliveries will be sent to you via Australia Post, or you can use our FREE Click & Collect service – available at Charlestown and Belmont!