Here at The Lake Veterinary Hospitals, we offer a wide range of medical and surgical services using the latest technology and equipment.
Surgery
We routinely perform soft tissue and orthopaedic surgery. This includes desexings, lump removals, soft palate resection, luxating patella corrective surgery and cruciate repair surgery. We have the option to perform Tibial Tuberosity Advancement (TTA) or extra-capsular surgery for cruciate repair.
---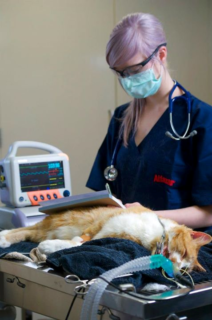 General Anaesthetics
Most of our anaesthetics involve the use of Isotec flourothane vapourisers, one of the safest in veterinary anaesthetics. Patients wake up very quickly, maximising safety, and most surgery patients go home the same day. Pain relief, and if necessary, follow up analgesic tablets, are given to patients after surgery.
Our anaesthetics are made safer by our detailed monitoring. Each pet has a dedicated nurse constantly monitoring the anaestheteic using respiratory, pulse, oxygen and blood pressure monitors. All pets undergoing a general anaesthetic are placed on IV fluid therapy. This maintains blood pressure and gives IV access in an emergency. We routinely use preanaesthetic blood testing to minimise the risk to your pet undergoing a general anaesthetic.
---
Intensive Care
Our intensive care is maintained at the highest standard through ongoing professional development of our vets and nurses. The skilled staff have the latest equipment to utilise in caring for your pet. Equipment used includes IV fluid pumps, pulse oximeters, blood pressure and ECG monitoring, oxygen administration equipment, blood transfusions and pathology allows us to perform medicine, surgery and hospital monitoring at a very high level, and as mentioned below, these services continue on after hours via our liaison with the Newcastle Animal Emergency Centre (NAEC).
---
Desexing
At The Lake Veterinary Hospitals, we recommend desexing of cats and dogs at 5 to 6 months of age. Desexing of Rabbits and Guinea pigs are recommended at a younger age due to their earlier sexual maturity.
The desexing helps in your pet's long term health and behaviour training.
All desexed patients are given an analgesic (pain relief) as a pre-operative sedative and a post-operative analgesic injection which gives good pain relief for the following 24 hours. All patients are given intravenous fluids to reduce anaesthetic risk and maintain blood pressure. Patients go home on the same day as the surgery.
---
Dentistry
All pets undergoing a dental procedure have their teeth thoroughly assessed before treatment. We use ultrasonic dental scalers and high speed drills similar to those used by human dentists.
The dental drills allow non-traumatic extraction of diseased teeth reducing post operative pain and allowing faster recovery from major dental work. We also use local anaesthetic nerve blocks to help alleviate pain. The teeth are polished after scaling to reduce the chance of plaque sticking to the teeth and to extend the life of the scale. At every opportunity our nurses and vets also offer advice on preventative dental care.
---
Microchipping and Scanning
We microchip cats and dogs. We are able to scan and quickly rehome the many stray dogs that are bought to us, especially after storms.
---
Cryosurgery
Used especially for shallow skin tumours such as skin cancer in cats.
---
Oncology
Oncology has become a very important part of our practice with many patients receiving chemotherapy, usually after surgical resection of tumours. We frequently utilise the services of specialist veterinary oncologists via email and telephone consultations, to help us tailor the chemotherapy protocols.
---
Access to Specialists
We frequently refer difficult cases to specialists, especially in the fields of orthopaedics, oncology, radiology, ophthalmology and general medicine.