Pathology
In-house pathology is available as well as through Symbion Pathology, who provide us with prompt and efficient service, and the back up of trained pathologists with whom we can liaise for those difficult cases.
---
Radiography
Both Charlestown and Belmont have excellent X-ray facilities, and an ultra modern new digital X-ray suite was installed at both hospitals in 2015.
---
Ultrasound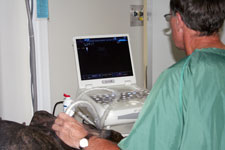 Ultrasound has become an invaluable tool in small animal diagnostics. We are fortunate to have state of the art machines which are used frequently for important diagnostic work at Belmont and Charlestown.
We are skilled at heart and abdominal ultrasonography.
---
Endoscopy
These are fibre optic tools used in the gastrointestinal and respiratory tract often proving invaluable to us in making some diagnoses which would have been difficult without it. They often allow us to avoid invasive surgery.
---
Electrocardiography
The ECG/EKG helps us in the diagnosis of heart disease in pets.
---