May & June 2020 Newsletter
Issue 83
To all our valued clients:
With the current COVID-19 situation in Australia, we wanted to reassure all our clients we are committed to providing ongoing health care for your pets. It's time to be a family. All of us.
If we can help you and your pets in any way, we will, and if we can't, we will find someone to help. Pick up the phone and call us. We are not going anywhere.
We have put in measures to ensure continuity of service for you and your pets. See below for details. The measures are to keep you safe and for our team to keep on doing what they do best in looking after your much loved pets. We have special measures in place and extra precautions for high risk COVID-19 people.
This month we touch on our senior health month and some mental health strategies surviving being at home.
Senior Health Month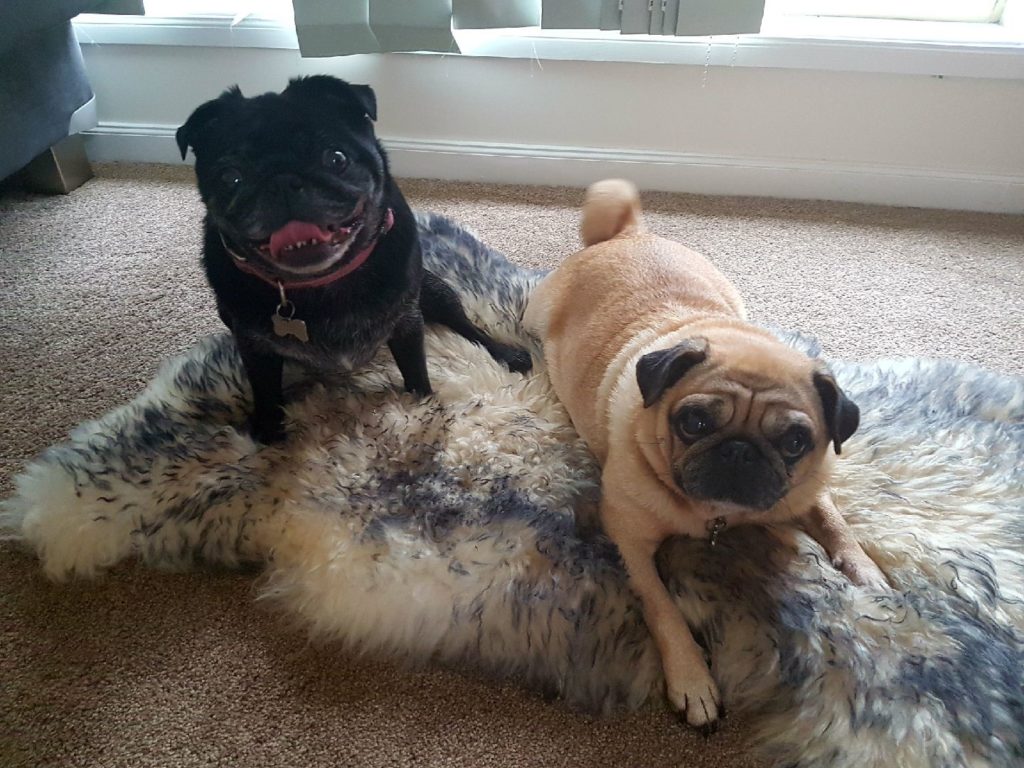 Did you know that if your pet is over 7 years old they are called seniors?
The Lake Veterinary Hospitals are running our Senior Health Examination Program in May and June.
You may notice some of the following signs:
Foul smelling breath
Not wanting to walk as far
Trouble getting up
Reluctance to jump up
Drinking excessively
Deafness
Vision impairment
Weight loss
Coughing
What is included?
Consultation
Blood screening to check body function
Urine testing
Arthritis checks
Eyesight and hearing checks
Nail trim
Dental examination
Heart health checks
Diet analysis
All of this has been packaged, so you can save on your senior pet's care.
Please call to book your pet in for their Senior Health Examination.
Charlestown: Book Online or ring 4943 6066
Belmont: Book Online or ring 4945 9677
We look forward to seeing you and your pet soon.
Shop online for your senior pet
---
Welcome to Dr Zoe Whitfield
Zoe graduated from University of Sydney in 2016 with 1st class honours. She has done further study on tick paralysis and worked in a pet loving vet hospital in Sydney over the last 3 years.
Zoe has special interests in medicine and dentistry.
Zoe grew up in country Victoria. Outside of work Zoe enjoys long distance open water swimming. Recently Zoe competed in and won the 20km Rottnest Island channel swim. Zoe will be working at Charlestown and looks forward to meeting you and your pet.
---
Online pet insurance claims
We are constantly trying to make processing insurance claims simpler.
We now have many insurance companies allowing online claims to speed up the time for your payment with some starting to allow for you to only pay the gap on large surgeries.
---
Ear Care for Pets
During this time of the year we are seeing increasing number of ear infections due to the humidity and allergies.
At the Lake Veterinary Hospital we believe preventive care is the best tool to stop causes advancing to infection and causing discomfort to your furry friends.
We recommend weekly ear cleaning with a gentle ear cleaner like PAW Gentle Ear Cleaner. Medication can sometimes be necessary.
Tips to prevent ear infections:
Weekly ear cleaning
Drying ears after swimming and baths
Trimming excess hair around ear canals.
Please note that many ear infections are secondary to allergies and the underlying allergy need to be addressed to get a resolution or better management.
---
Pets and COVID-19 Information
Download the resource sheet from the AVA at the link below to see information about COVID-19 and pets.
The summary is that the virus can live on the coat of your pet for only short periods of time and requires close contact to an infected human for long amounts of time. We are offering to spray your pet down if you are concerned of virus spread after a consult if you are a high risk patient.
---
Osteoarthritis and Your Pet
Osteoarthritis or degenerative joint disease causes pain, loss of mobility and decreased quality of life. Arthritis is a common condition in dogs and cats (Yes cats! They are just better at hiding it).
Symptoms include:
Inability to jump and play
Difficulty going up or down stairs
Difficulty rising or stiff after rest
Difficulty toileting and /or using the litter tray
Trouble grooming or poor coat condition
Aggressive behaviour when touched, approached or moved due to pain
Change of rest locations
Cats- withdrawn and quiet
Thankfully there are many options available to help your pet maintain better quality of life and enjoy life again. Prevention is also important and therefore it is vital to keep your pet slim and trim. Extra weight causes more strain on joints and overweight animals are less active which leads to muscle wastage. Please call for a consultation with one of our weight management nurses, who can tailor a program for your pet. Medications like anti-inflammatories and a course of pentosan (4 weekly injections) can be very effective at controlling the pain and inflammation associated with arthritis. Never give human painkillers to pets, such as aspirin and nurofen as these can be lethal.
Please ask us about a new medication registered for pain management which can be used in addition to anti-inflammatories. If you have any concerns about your pet's mobility please book online at Charlestown (or ring 49436066) or book online at Belmont (or ring 49459677) to see one of our friendly veterinarians to help your pet feel more comfortable.
Hill's Prescription Diet Canine Metabolic + Mobility
Clinical nutrition especially formulated to help manage your dog's weight and joint health.
---
Mental Health strategies: surviving lock down
Our pets can help us through these tough times. Their pure
company and intuition when things are different helps us stay focussed and feel
supported. They are very good listeners. Our pets give us purpose on more
difficult days whether it be getting us up for breakfast or a walk or even a
hug.
With the extra time together, it is a great opportunity to try teaching some new tricks whilst refreshing some old ones. To help enrich your pet's life there are many toys available. It is hard to go past the trustworthy Kong. There are also many recyclables that can stimulate some creativity in their owner for the enjoyment of their pet.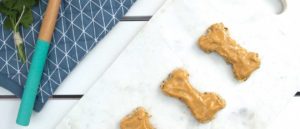 A movie is a nice way to end a busy day along with some dog cookies/cat cakes. We will post some recipes on our Facebook page. Take care of yourselves along with your pets from all The Lake Vet team.
---
COVID-19 (Coronavirus) Update
Last updated: Thursday 26th March
Attention all our valued clients:
With the current COVID-19 situation in Australia, we wanted to reassure all our clients we are committed to providing ongoing health care for your pets. It's time to be a family. All of us.
If we can help you and your pets in any way, we will, and if we can't, we will find someone to help. Pick up the phone and call us. We are not going anywhere. We have put in measures to ensure continuity of service for you and your pets.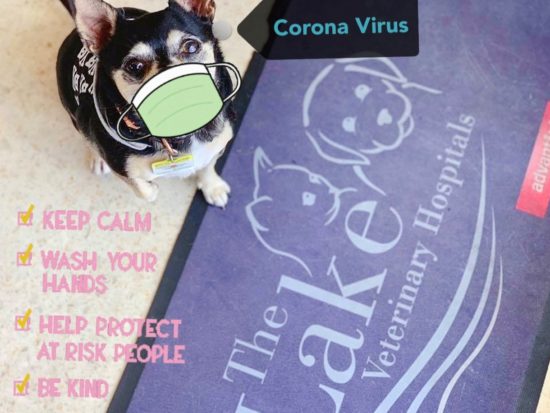 The new measures are:
Please call us on your arrival to the hospital and advise us of the parking bay number you are in and we will attend to you in the car park. We will pick up your pet (dogs with lead and cats/exotics in carrier) from your car and collect a history then bring your pet into the hospital. This allows you to stay in the car. We will examine your pet in the hospital and return your pet and discuss any treatment plans/options.
For food and medication pick ups, we will deliver the goods to your car in the car park. Please phone ahead so we can organise your order in a timely manner. Our new website allows for ordering of food and products online with delivery at home or at the hospital. The automatic ordering is very helpful and has some special discounts.
We request all payments be made by card and a receipt will be emailed.
If you are feeling unwell or in self isolation and you need to see us:
Please inform us that you are unwell and need to stay home, or that you are in self isolation
We can talk to you over the phone to discuss whether we think it is a matter of urgency that we see your pet.
We can perform a video link consult – all you need is an internet connection and a smart phone. We will need photos emailed to us before medications are dispensed. Video consults will be the same cost as our normal consultations.
If we think your pet needs to be seen, ask a family member or friend to bring your pet in on your behalf.
We have increased the frequency of our disinfection of our hospitals.
We sincerely appreciate your understanding on the above. It is a surreal situation that we all find ourselves in. It is time for all of us to be mindful of the risk we pose to others, not just the risk that others may pose to us. We hope that all of our clients stay healthy and well, and we will all work together to slow the virus. If you have any concerns for your pet please don't hesitate to call us.
*Please keep an eye here or on our Facebook page for any further updates.*
---
Social Distancing
Dr Fiona and Dr Anthony are showing a good hygiene tip of how to avoid touching your face while social distancing.
---
Previous newsletters