Attention all our valued clients:
With the current COVID-19 situation in Australia, we wanted to reassure all our clients we are committed to providing ongoing health care for your pets. It's time to be a family. All of us.
If we can help you and your pets in any way, we will, and if we can't, we will find someone to help. Pick up the phone and call us. We are not going anywhere. We have put in measures to ensure continuity of service for you and your pets.
Since NSW covid-19 restrictions are easing we are opening our doors again to clients following strict guidelines!
We have some step by step processes to help be able to fill your veterinary needs and still remain covid safe.
Phone the clinic that you want to book an appointment with. The friendly receptionist will advise you of the new appointment protocol as consultations have changed slightly. Alternatively you can book online https://www.lakevet.com.au/
The new measures are:
What we would like you to do once you arrive in the car park:
•Proceed into the hospital checking the maximum numbers are being followed on the door sign. If the clinic is at capacity numbers you will be asked to remain outside until one of our staff comes to let you in for your appointment.
•We kindly ask you wear a mask if you are entering any of our practices.
•Only 1 person is to enter with their pet, if you have more family members and all to wish to be apart of the consult, the vet can still come to the car if necessary.
•Use the hand sanitiser provided on the reception bench as you enter and exit the reception area.
•Follow our social distancing floor markers and signs within the clinics reception area.
•For food and medication, pick ups can be made in reception. Please phone ahead so we can organise your order in a timely manner. Our new website allows for ordering of food and products online with delivery at home or at the hospital. The automatic ordering is very helpful and has some special discounts.
•We request all payments be made by card and a receipt will be emailed.
•We are taking these measures to keep you safe and ensure our team remains infection free.
Thank you for understanding and cooperation during this difficult time.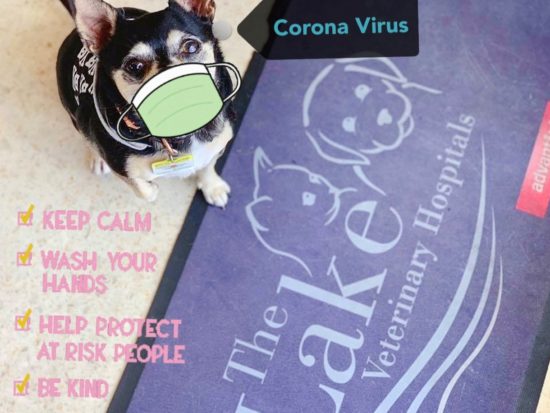 If you are feeling unwell or in self isolation and you need to see us:
Please inform us that you are unwell and need to stay home, or that you are in self isolation
We can talk to you over the phone to discuss whether we think it is a matter of urgency that we see your pet.
We can perform a video link consult – all you need is an internet connection and a smart phone. We will need photos emailed to us before medications are dispensed. Video consults will be the same cost as our normal consultations.
If we think your pet needs to be seen, ask a family member or friend to bring your pet in on your behalf.
We have increased the frequency of our disinfection of our hospitals.
We sincerely appreciate your understanding on the above. It is a surreal situation that we all find ourselves in. It is time for all of us to be mindful of the risk we pose to others, not just the risk that others may pose to us. We hope that all of our clients stay healthy and well, and we will all work together to slow the virus. If you have any concerns for your pet please don't hesitate to call us.
*Please keep an eye here or on our Facebook page for any further updates.*