Last updated: Thursday 30th July
Attention all our valued clients:
In the current COVID world we live in, we are having pets only coming inside our hospitals to help us stay open so we are available to help your pets. We use Adaptil spray for dogs and Feliway spray for cats to decrease the stress of the visit for your pet along with lots of cuddles and some tasty treats. We can also do some minor treatments outside.   Here is a link to a video of what your pet does when they come into our hospital so you know they are in safe and caring hands.
With the current COVID-19 situation in Australia, we wanted to reassure all our clients we are committed to providing ongoing health care for your pets. It's time to be a family. All of us.
If we can help you and your pets in any way, we will, and if we can't, we will find someone to help. Pick up the phone and call us. We are not going anywhere. We have put in measures to ensure continuity of service for you and your pets.
The new measures are:
Please call us on your arrival to the hospital and advise us of the parking bay number you are in and we will attend to you in the car park. We will pick up your pet (dogs with lead and cats/exotics in carrier) from your car and collect a history then bring your pet into the hospital. This allows you to stay in the car. We will examine your pet in the hospital and return your pet and discuss any treatment plans/options.
For food and medication pick ups, we will deliver the goods to your car in the car park. Please phone ahead so we can organise your order in a timely manner. Our new website allows for ordering of food and products online with delivery at home or at the hospital. The automatic ordering is very helpful and has some special discounts.
We request all payments be made by card and a receipt will be emailed.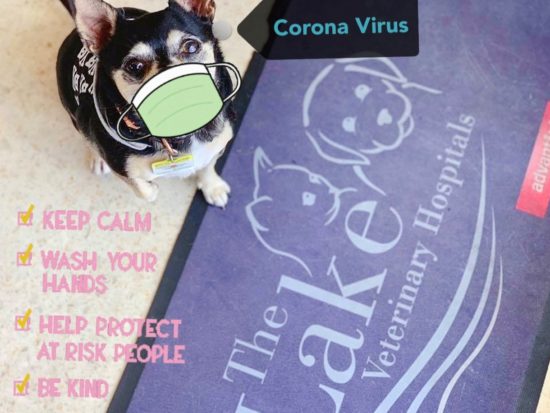 If you are feeling unwell or in self isolation and you need to see us:
Please inform us that you are unwell and need to stay home, or that you are in self isolation
We can talk to you over the phone to discuss whether we think it is a matter of urgency that we see your pet.
We can perform a video link consult – all you need is an internet connection and a smart phone. We will need photos emailed to us before medications are dispensed. Video consults will be the same cost as our normal consultations.
If we think your pet needs to be seen, ask a family member or friend to bring your pet in on your behalf.
We have increased the frequency of our disinfection of our hospitals.
We sincerely appreciate your understanding on the above. It is a surreal situation that we all find ourselves in. It is time for all of us to be mindful of the risk we pose to others, not just the risk that others may pose to us. We hope that all of our clients stay healthy and well, and we will all work together to slow the virus. If you have any concerns for your pet please don't hesitate to call us.
*Please keep an eye here or on our Facebook page for any further updates.*